McCann fine art
Our Spring Workshops
 9th – 13th October 2017 (5 days)
We will be offering two "limited number" workshops this Spring
Workshop 1 – "Watercolour insights"
Workshop 2 – "Portraits in acrylics"
Join Lucy & Barry at their studio and gallery in the beautiful New England, Australia.
"Watercolour insights"
Lucy has designed this workshop to have fun with this wonderful medium. Demonstrating the different affects that can be achieved with watercolour. The course will cover techniques, problem solving and elements including design, value, colour, shapes & edges. A variety of subject matter will be covered, with step by step demonstrations. Individual attention will be given with only 9 people per class.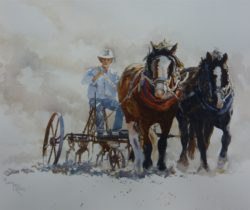 "Portraits in acrylics"
Barry will be teaching how to achieve an oil-like look to your work using acrylic paint. He will show you the materials and equipment he uses and explain his method of approach and how it evolved. The workshop will cover such topics as drawing, how to get a likeness, the application of paint and colour mixing. The class has a maximum limit of only 9 places to ensure a personal experience.
Their patience and individual attention will guarantee an enjoyable experience. ALL REFERENCE MATERIAL WILL BE PROVIDED.
Both full time artists, Lucy & Barry McCann are a husband & wife team who produce works largely on a commission basis. Their demonstrations, teaching & judging skills are sought after by art societies and groups throughout Australia & overseas. They have achieved numerous prizes and awards with their work represented in many private & corporate collections. They have appeared on the TV series "Colour in your life". Please find the link to their 4 episodes at their website www.mccannfineart.net.au under the heading "Resources".
Workshops are held from 9.00am – 4.30pm Monday to Friday
Workshop fee – $550 (Bookings essential)
Morning & afternoon tea provided. BYO Lunch
Contact McCann fine art
Phone:0412778253 Email: info@mccannfineart.net.au
Address: "Kintyre" 28 Kintyre Rd Armidale NSW 2350
Visit their website at www.mccannfineart.net.au